March 5, 2006 Copper Canyon Run and Ultra Marathon:
Course description: Urique canyon version
Wild Mountain Runner Barefoot Ted in Mexico
Photo by Luis Escobar
For photos and results of this year's race, click here.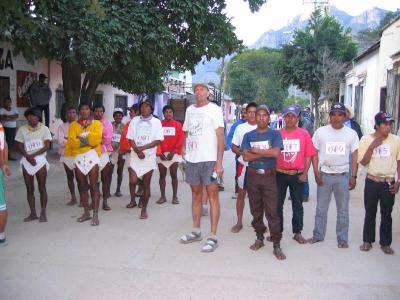 In an effort to get more runners to come down and run with us, and allow for a quality experience for spectators, we have eliminated the previous EXTREME element of this run, which was a hard, very gnarly, potentially dangerous [and beautiful!], point-to-point, canyon-to-canyon run. I will still be offering this hike to back-packers, fast-packers, and runners, on private trips. No racing please!

The run will now be on a combination dirt road and single track trail beginning and ending in the plaza of the old town of Urique, running on rolling dirt road up and down the Urique river with diversions on single track trail up and down beautiful, lush arroyos [side canyons]. The race will consist of a 17 1/2 mile out and back loop up-river, followed by another 18 mile loop down-river, then continue up-river again on rough dirt road on another 10 miles out and back to the Tarahumara village of Guadalupe Coronado, before ending in the plaza of the town of Urique.

The Ultra Marathon version of the race will be about 45+ miles. There will be the shorter 17+ mile version and the 35 miler as well for those of us who may be a little less "hard-core". With this format, runners and spectators will have the opportunity to see the progress of the race as it unfolds, and the run will be much safer and easier to manage aid stations, with better access to emergency vehicles, etc.

The two separate trail sections will be beautiful, rolling single track, each climbing around 1,200 feet in about 3 1/2 miles, then descending the same, back to what would be considered unimproved dirt-road, beginning and ending in the town plaza of the deep canyon town of Urique, where we will meet in the evening for the awards presentation. The turn-around points will be the Tarahumara village of Guadalupe Coronado, up-river; then back a few miles across the river on a suspension bridge, diverting a few miles up the lush arroyo Mescalera on lovely single-track trail to another smaller suspension bridge before looping back to the town plaza of Urique; then following the dirt road down-river for almost 6 miles before crossing the river [IN the river], running cross-country up a rocky arroyo with minimal trail until spotting the narrow dirt trail leading up another 3 miles or so to the beautiful rancho "Los Alisos", where sweet, vine-ripened grapefruit abounds!

Runners will check in at Los Alisos, which will have radio contact to Urique, take aid and return [carefully!] on the trail to the river where they will cross and run back up-river to Urique at the 35 mile mark, take more aid, and continue 5 miles to the village of Guadalupe Coronado again, returning on what could at this point be some pretty good "death" hills, to the cheering finish of the race in the plaza of Urique.

Read more here: http://caballoblanco.com/


Cerveza and Frijoles!