Barefoot Ted McDonald Receives Sponsorship to Boston from VibramŽ FiveFingers™
By: Chris Quesada, Asst. Editorial Staff - WMR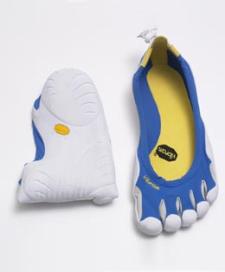 Our very own Barefoot Ted McDonald, who will soon be approaching a career change to a temporarily sponsored athlete, has been recognized by VibramŽ FiveFingers™. Ted who finished Santa Clarita Marathon with a solid qualifying time of 3:16 will run Boston this year fully sponsored. The company will pay Ted with hotel accommodations and any associated expenses for wearing the shoe that fits like a glove, literally. Ted will take part in plans now being drafted which aim to promote their new shoe.
I'd also like to congratulate Ted coming back from his first Copper Canyon run experience in Mexico (see below). Ted had the opportunity to build relationships with Scott Jurek (Western States 100 Mile Endurance Run and Badwater 135 Ultra Marathon Champion) and Arnulfo Quimare (three time winner of the Ultra Marathon de los Canyons).
I wonder whats next? *
Hey Ted, dont forget about us *little people* when you become a professional athlete with multi-million dollar endorsement contracts*.