Father and Son run Big Sur Marathon 2006
By: Chris Quesada
.
Congratulations to marathon finishers father and son Gilbert and Marcos Varela. Marcos crossed the finish line in 3:26:41 . They say you should re-adjust your time goal to atleast 20 minutes more on this hilly but scenic course.

Macos did very impressive considering his very first marathon and limited training time. *You certainly picked a tough one Marcos... must have been your Dads idea*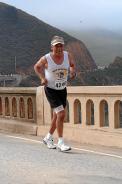 Gilbert smiles for the camera as he crosses the bridge.
.