Malibu Creek Trail Challenge - 14 mile trail race 5/13/06
WMRs' Participate in Extreme Running!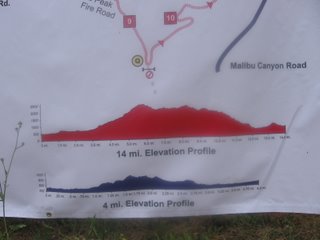 This course is extremely rocky and a runner must expect to navigate over boulders, downed trees, and hidden roots the entire distance. The trail is tricky trail with plenty of opportunities to fall or twist an ankle or take a wrong turn. The top of the hill gets foggy so much that you cannot see further then 15 feet. I had to backtrack a couple of times to get back on the course.
With an overall winning time of 1:31 ish, shows this course is very tough race for even the toughest of road racers.
L-R Rosa, Chris, Jr, & JV
JVs' finishing time: 1 hr 59 mins. 28th overall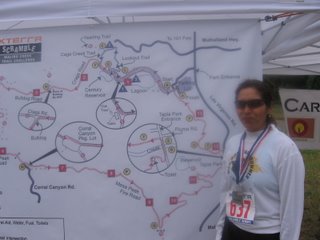 Rosa places 2nd (4 mi) in her division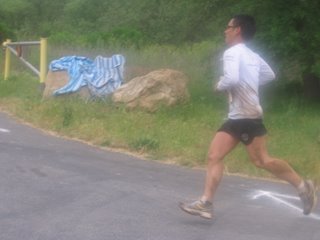 Chris slips and fall while running down hill at the edge of a single track and crashes into a bush at mile 13.
Finishing time: 1 hr 58 mins. - 26th - overall
*I sat there for a while waiting in pain worst than a sting and tried to figure out what the hell happened.*