Running Legend Eddie Lujan Passes Torch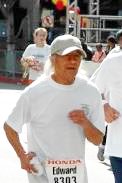 By Freddie Perez
To all Wild Mountain Runners. We are all in mourning following the passing of Eddie Lujan, ultra runner, 50 and 100 milers, LA Legacy Runner and excellent person.
Since the late 1970s, he was my role model. I know that God needed an excellent runner in heaven.
He was a true "Wild Mountain Runner".
Services Viewing
Tuesday August 8th - 12:00 to 9:00 PM
Wednesday August 9th - 3:00 PM - 4:00 PM Viewing and Rosary
Thursday August 10th - 9:00 AM Mass at Our Lady of Guadlupe in Bakersfield.